Human Rights
SACSIS embraces a rights based approach to development, which views poverty as a denial of human rights.
Ralph Nader - Nelson Mandela's exceptional and exemplary life has and will produce worldwide celebrations of his extremely unique blend of character, personality and resolve for broad-gauged justice. To truly memorialize his contributions, however, requires grand actions. Taking immediate recognition of the deep wellsprings of respect, affection and sorrow over the loss of his leadership to the people of South Africa and the world, leaders from various nations can come together to establish the Nelson...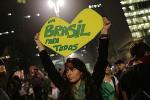 Glenn Ashton - Media coverage of the Obama-crew's flash-mob blitz of South Africa showed the extent to which we have allowed ourselves to be policed by a force that continues to display apartheid era tactics. While Obama was touring Soweto legal demonstrators were treated to percussion grenades and teargas for protesting too vigorously. South Africans have a proud history of peaceful protest, from the women's march on Pretoria in the 1950s, the pass protests into the cities across the nation...
Chris Hedges - NEW YORK—What is it that makes a rebel? Why does one willingly step outside society to destroy a system of power, break the law and risk persecution and even death for an ideal? As the state calcifies into corporate totalitarianism, as prominent rebels such as Julian Assange, Bradley Manning and Edward Snowden are defamed by a bankrupt media and political class and hunted down as criminals, as change through the established mechanisms of reform becomes impossible, as systems of power...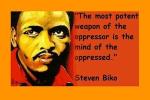 Mandisi Majavu - Although recent newspaper reports that the Azanian People's Organisation (Azapo) and the Socialist Party of Azania (Sopa) are to merge ought to be welcomed by those of Black Consciousness (BC) tradition, the fact of the matter is that the BC tradition in South Africa is intellectually stuck in the 20th century. According to the Unemployed People's Movement (UPM), proponents of the BC tradition have not been able to rethink BC politics for a new situation. The new situation being...
Irin Carmon - Angelina Jolie's op-ed about her approach to mitigating breast cancer risk helped a company's stock value rise 4%. Is that what medicine is really about? Times today has focused on her decision to undergo a double mastectomy after learning she carried the BRCA1 gene. As Salon noted here, that's not the only option. But for those who do want to consider following Jolie's path, there are structural barriers to even gaining the information to make those choices, something she...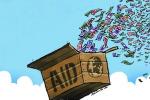 Alexander O'Riordan - Inclusive Development, a tiny California based NGO that lists only three advisors on its website, managed to do what many larger organisations or governments failed to do: hold donors to account for their potential complicity in human rights abuses. In 2010, Human Rights Watch (HRW) reported that aid to Ethiopia was being used in a political manner – as a reward to those that supported the ruling party and as coercion for those critical of the ruling elite. The report, while well...