Keyword: BRICS
Saliem Fakir - The 5th BRICS Summit recently hosted in Durban has come to an end with great fanfare and celebrations that progress has been made with the announcement that a BRICS development bank will be established. The concept of the bank is sketchy and it is hard to tell what it will look like given that the partners are still mulling its final form. However, its primary focus is mooted to be in infrastructure development. Beyond that South Africa will chair the BRICS process until Brazil hosts the...
Pepe Escobar - Reports on the premature death of the BRICS (Brazil, Russia, India, China and South Africa) have been greatly exaggerated. Western corporate media is flooded with such nonsense, perpetrated in this particular case by the head of Morgan Stanley Investment Management. Reality spells otherwise. The BRICS meet in Durban, South Africa, this Tuesday to, among other steps, create their own credit rating agency, sidelining the dictatorship - or at least "biased agendas", in New Delhi's...
Saliem Fakir - There is the usual chorus of loud voices, "What is South Africa doing in the BRICS, and does it even belong there?" Such observations are inconsequential to the evolving fate of BRICS and South Africa's place within it. Whether it belongs in BRICS or not is a wholly irrelevant point by now. The question that really matters is, "What is South Africa doing with its lofty position in the BRICS?" A feat partly accomplished by the ANC's historical...
Saliem Fakir - The recent spat between South Africa and Brazil over poultry raises the spectre of how self-interest can bedevil unity in newly formed geo-political forums, such as BRICS (Brazil, Russia, India, China and South Africa) and IBSA (India, Brazil and South Africa). South Africa accused Brazil of dumping chickens onto our market and thus causing harm to our poultry industry. Brazil initiated a World Trade Organization action after South Africa imposed import tariffs on Brazilian chicken....

Socialist Party candidate, Francois Hollande has defeated Nicolas Sarkozy in the French presidential runoff, making him the latest EU leader to be swept aside by the crippling debt crisis. Among the first steps President-elect Hollande is planning, is to push back against German-led austerity measures. Moreover, Asia Times correspondent, Pepe Escobar argues, Hollande wants a strategic partnership with the BRICS countries. Like the BRICS group, Hollande wants an end to the dominance of the...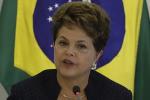 Conn Hallinan - On one level, April's hemispheric summit meeting was an old-fashioned butt kicking for Washington's policies in the region. The White House found itself virtually alone—Dudley Do-Right Canada its sole ally—on everything from Cuba to the war on drugs. But the differences go deeper than the exclusion of Havana and the growing body count in Washington's failed anti-narcotics strategy. They reflect profound disagreements on how to build economies, confront inequity,...