Keyword: Pravin Gordhan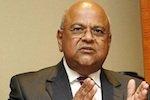 Ebrahim-Khalil Hassen - The Medium Term Budget Policy Statement (MTBPS) occurs in a deepening economic crisis; expressed most notably by the loss of over 1 million jobs in the last year. The prognosis going forward is dire, with government estimates on reaching our developmental goals painting a worrying picture. According to official projections, as a society, we are unlikely to narrow the income gap, nor reach our employment targets. If there is a silver lining in South Africa's Millennium Development...
Liepollo Pheko - Driving past several Johannesburg traffic light intersections, one is constantly reminded of how unequal this country is. "Please Help. I need bail money for my cat," says one board held up by a beggar. A recent one read, "Help me out. Need money for some weed, to pay my hooker and settle my beer bill." They are eye catching and humorously worded, but the intent and concrete realities contained on those placards are desperate and require urgent intervention. As...